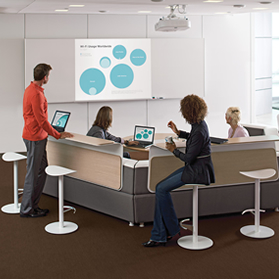 The integration of new technologies in the professional workplace is changing the way that knowledge workers perform their daily work. It enables them to work on-the-go with the ability to communicate globally, and have all the information they require right at their fingertips. Workers now prefer to collaborate with others to learn, generate new ideas and create innovative solutions, and they expect to be supported by their employers.
The workplace of the future is going to have the biggest impact on the success of companies than ever before. With a new generation of knowledge workers entering the workplace bringing different workstyles, attitudes and perspectives, the role of the workplace will be forced to adapt in more ways than one. It now needs to work harder, smarter, be highly flexible, support new and existing workstyles and new technologies in order to attract and engage the best talent and ensure success moving forward.
Creating a work environment that is designed properly to support your workers is a key component to attracting and engaging the best talent. The footprint of your office doesn't necessarily need to be larger since you will be encouraging mobile work and working remotely, however, it should be an inviting space where your employees feel they want to get together and work. It should be aesthetically appealing, clean and have lots of natural light to influence mood and improve employee wellbeing. Different types of work areas to support the way different people work should also be available, such as undedicated work areas, casual collaborative spaces, formal collaborative spaces, and dedicated spaces for workers who are regularly in the office.. By providing these various spaces you create the type of fun, collaborative workplace and corporate culture that people look for in an employer, while encouraging your existing employees to be innovative at the same time.